I did an engagement session with Raymond and Julia at the Griffith Observatory on June 13th last summer, and I was so happy to be able to capture Raymond's surprise for Julia.
Raymond and Julia both work in public education, and they share a love for helping people. Raymond knew when they met that this was the girl he wanted to marry. With what he could afford, he bought a small, modest ring for her. Although it was simple ring, Julia loved it nonetheless.
Little did Julia know, but the ring he got her was only temporary. Raymond saved as much money as he could to buy her an engagement ring that he felt she deserved and instinctively felt that the place to give her that ring was at the Observatory.
I posed them on a little trail by the observatory and then cued Raymond to take his ring out. Of course, Julia was surprised and touched, especially by how hard Raymond had worked to make this day happen and to get her a new, beautiful ring.
My favorite images from the shoot came when I put a small metal pipe in front of my lens to create a cool flare around the couple. It almost looks like a ring of fire. I'm particularly proud of these images because this is the first time that technique has worked for me—and I loved how it turned out!
Julia & Raymond, congratulations on your engagement! I was honored to be part of this exciting time in your lives, and I can't wait to see you two married—you deserve so much happiness together!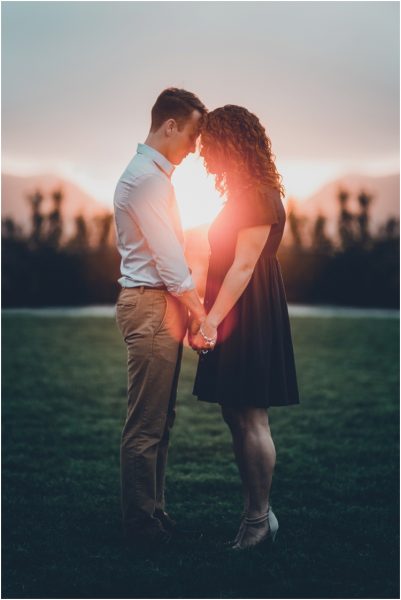 I am a wedding and conceptual portrait photographer based in Southern California. When I'm not shooting weddings, or planning my next weekly photo for my Music to Life series, you may find me at Disneyland or the zoo spending time with my beautiful wife and daughter.
Latest posts by Jimmy Bui (see all)